Brattleboro Subaru Cares About Your Health & Safety!

Comfortably Shop for Your Next Subaru with 3 Ways at Brattleboro Subaru
As businesses start to open up more across Vermont, it's important to our team that we help you shop for a new vehicle in the manner that feels most comfortable to you. We don't want you to feel like you need to immediately put yourself in a crowded situation, so we're proud to offer a few different ways for you to shop that allows you to avoid larger crowds. Check out the ways down below and let us know how we can help you get behind the wheel of a new Subaru!
If you're looking to avoid the dealership as much as possible, you can use our online tools that walk you through most of the process from the comfort of home. You can browse our online inventory of new and used Subaru models, explore financing options, determine trade-in value for your current vehicle, apply for financing, and even schedule a test drive, all without meeting in person! Once you have the deal in place, you can stop by our dealership, and we'll have the keys ready for you!
Outside Sales
Still looking to stop by the dealership first before making any decisions? If you're looking to avoid stepping foot into the dealership, we can accommodate by setting up chairs and tables outside. We have constructed tents that can be set up and curbside sales that we can offer, allowing you to enjoy social distancing while exploring new Subaru options in person. You can also take in beautiful Vermont weather while you get to know our Subaru deals and specials.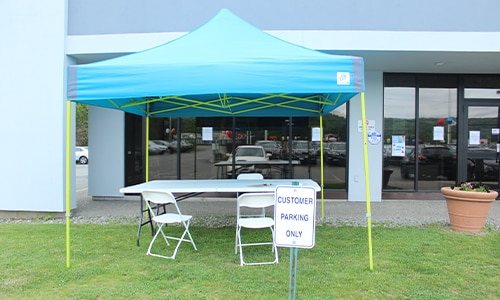 Showroom

If you would like to work inside the dealership, we're happy to accommodate you there as well! You can learn about all your options while you take in the amenities our sales floor has to offer. We have your safety in mind, as we can employ Plexiglass partitions to help social distancing if requested, and we clean and sanitize all our surfaces rigorously. All our employees are either vaccinated or wearing masks as they work with you to ensure your safety! Please feel free to ask the person you are working with to wear a mask if you would like them to.

No matter your needs, we're happy to help! Brattleboro Subaru is here to accommodate your needs and comfort level as we head into the next steps of this "new normal"! Reach out to us with any questions you might have!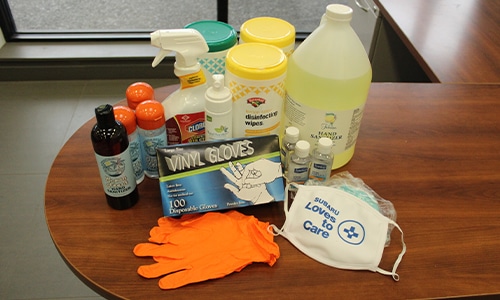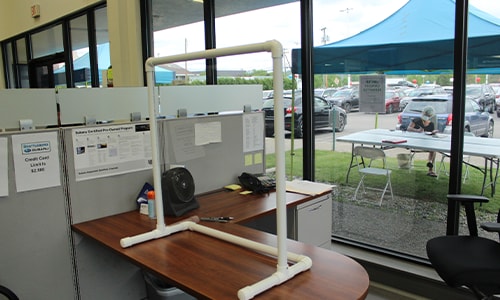 ---
Our Service Department Is OPEN on Saturdays!
We are NOT offering Express Services during this time.

If you are within 15 miles of Brattleboro Subaru, we are offering to pick up and deliver your car for any service. We are also offering to gas your vehicle free of charge, except the actual cost of gas. If needed, we can leave a free loaner vehicle with you for the day. Brattleboro Subaru will also sanitize the driver's area if
requested
, with a disinfecting wipe before returning vehicles to our customers. We are also disinfecting our dealership multiple times a day.Your safety and well-being is our top priority. So let us help to ensure you have a safe and reliable vehicle and don't put off that service or any recall you may need and call for an appointment or schedule online!
COVID-19 Resources
Hours
Monday

9:00AM-7:00PM

Tuesday

9:00AM-7:00PM

Wednesday

9:00AM-7:00PM

Thursday

9:00AM-7:00PM

Friday

9:00AM-6:00PM

Saturday

9:00AM-5:00PM

Sunday

Closed
Customer Testimonials
"I want to thank the service desk team that gracefully handled a customer that did not have a mask on when another customer brought it to their attention. All ended well with the mask-less customer having a mask on."- Melanie
"We felt very safe with the precautions they were taking during this difficult time. Everyone we dealt with was very professional and helpful."-Anonymous
"Salesperson was pleasant and wore a mask the entire time. Was informative regarding details of the different models of vehicles. Salesperson offered coffee or water, however, bottled water was not available. Salesperson introduced me to other employees who were involved in the sale. He also sanitized the vehicles that I test drove. I was able to sit outside in the shade to do the transactions."-Karen
"We felt very safe with the precautions they were taking during this difficult time. Everyone we dealt with was very professional and helpful."-Anonymous
"Professional, Thorough, Safe (COVID), Concerned, Informed. Excellent experience!!"-William
"The dealer took extra precautions to keep everyone safe during the corona virus pandemic and made the process as quick as possible." - Michael
"As always the sales team knows what we expect and they deliver. Covid-19 has made leasing a car more difficult. We appreciated the dealerships concern for our safety and their employees. It was a pleasure as always to work with this team!" - Jeffrey
"I purchased a car during the Covid pandemic and was able to get the color I wanted with the features at the price I expected quickly and safely. The online sales were incredible and just overall friendly. I really loved working at Brattleboro. Thank you all for an amazing car and service." - Stephen