The 2023 Subaru Love Promise Customer and Community Commitment Award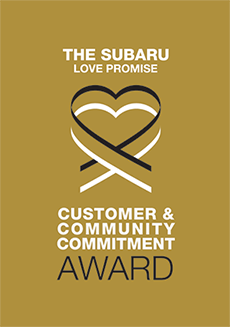 We've been nationally recognized for our dedication to our customers, our community, and the Subaru Love Promise.
We're honored to receive the 2023 Subaru Love Promise Customer and Community Commitment Award. This award nationally recognizes elite Subaru retailers who provide an exceptional customer experience at every interaction with Subaru. These retailers have also demonstrated an outstanding commitment to supporting passions and causes in their local communities in important areas such as the environment, community, health, education, and pets.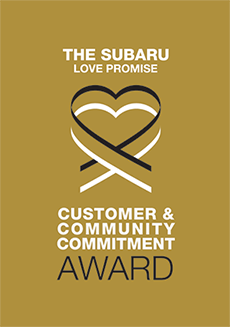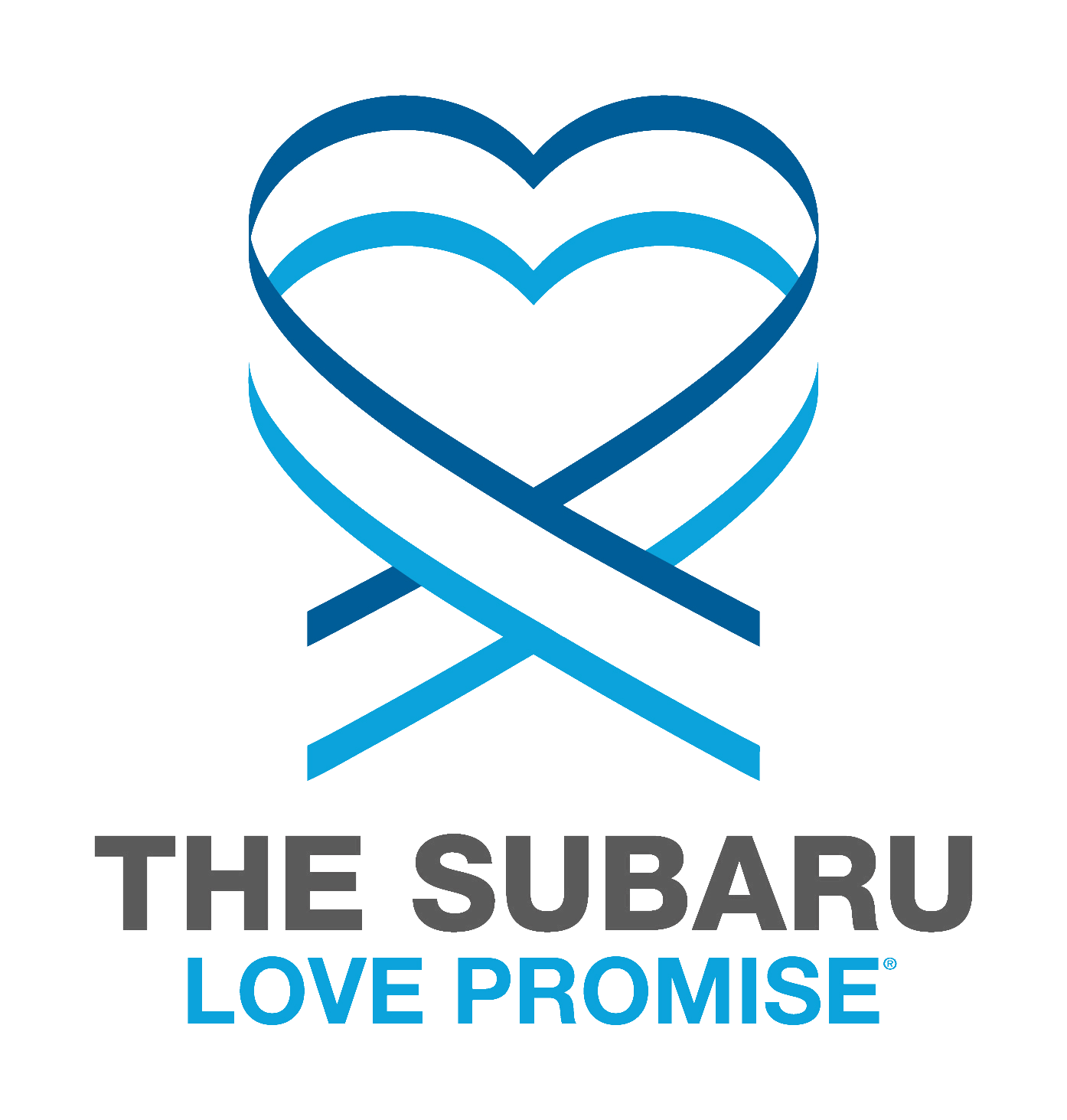 What is the Subaru Love Promise?
Subaru and our retailers believe in making the world a better place and the Subaru Love Promise is our vision of respecting all people. This is our commitment to show love and respect to our customers and to work to make a positive impact in the world.
How is Brattleboro Subaru dedicated locally to the Love Promise?
Our Love Promise can be seen in various partnerships with local charities and non-profits. We're grateful for the opportunity, not only to be a part of our community, but to serve it as well.Our Love Promise is demonstrated through action. We proudly support so many causes everywhere in our community, from local charities to non-profits to families-in-need. We are grateful for the opportunity to make a positive impact and be a member of such a strong and vibrant community.
Windham County Humane Society, ASPCA, The Animal Rescue & Protection, Southern Vermont Therapeutic R, Lucy Mackenzie Humane Society
Green Up Vermont, Bonnyvale Enviornmental Edu Cen, Friends of Pisgah, The Fresh Air Fund, National Park Foundation
Early Education Services, Winston Prouty Center, Kum Hattin Homes for Children, IN-SIGHT Photography Project, Teach for America
Youth Services, Brattleboro Museum & Art Center, Women's Freedom Center, Make-A-Wish Vermont, Next Stage Arts Project
Brattleboro Memorial Hospital, Brattleboro Area Hospice, Rescue Inc, Brattleboro Retreat, Brattleboro Walk-In Clinic
Love Promise Stories from Brattleboro Subaru
Subaru and Brattleboro Subaru believe in making a positive impact on the communities in which we live and work. We uphold that belief through our Love Promise Community Commitment. Every month, we select inspiring stories from customers and partners from around our area who strive to support our collective commitment and feature them here
Growing up on Green Up - Jady L
Since 1969, Green Up day in Vermont has been an annual tradition to clean up the roadways and waterways of our communities. Typically occurring on the first Saturday in May, it's an opportunity to clean up after the harsh winter and spend some much deserved time outside giving back to the community. The whole team at Brattleboro Subaru comes together for this day and we always look forward to it every year. The famous Alan Brother's donuts define the morning along with fresh hot coffee and the crisp morning May air. The radio station joins for a live broadcast and barbeque, and typically by noon an entire dumpster is full of Green Up bags. Every part of this special day is made possible by our owner, John Sciacca and his son Sabin. From the time he was just a toddler until now, ten years later, Sabin Sciacca has wholeheartedly supported Green Up's mission and has served as the face of Brattleboro Subaru during the event with his father. Sabin states, "with the exception of Christmas and my Birthday, Green Up Day is one of my favorite days." He continues to explain, "at first I just wanted to spend time with my Dad, but now it's a fun and good way to help clean the community and spend time with my Dad at the same time!" Sabin says, "one of my favorite parts of the day is the cook out. After a long day cleaning up the town, it's nice to have a burger and a soda." All of us here at Brattleboro Subaru look forward to what the next decade will bring for Sabin and Green Up!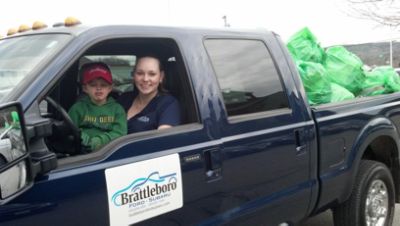 ---
Giving Back to Our Community - Jady L
Every year for the past 15 years, Subaru and its retailers participate in a great event called the Subaru Share The Love® Event. This event is an opportunity for Subaru and its participating retailers to donate to a local charity of their choice. Through the last 15 years, Subaru and its retailers have collectively donated $256 million to charity! As we at Brattleboro Subaru donate and help our community all year long, we took part in this event, and from November to the end of the year, each of our customers who purchased a new Subaru from us had the opportunity to choose between a local charity or one of the four national charities. Whichever they chose, we donated $300! At the end of this amazing event, we ended up donating a total of $28,000 to Brattleboro Area Hospice. Brattleboro Area Hospice is a local community-based, non-profit volunteer organization who provide non-medical services to the terminally ill patients and bereavement services to hospice patients, their families and the general public. Brattleboro Area Hospice is close to our hearts because of everything they do for our community. All of their volunteers are amazing people and we could really tell that they really care for our community when we had the opportunity to speak to a few of them! This is their second time being our Hometown Recipient! Back in 2016, we ended up donating $32,624 to them through this event! We always look forward to this event because it really gives us and our guests an opportunity to give back to the community we all love and live in!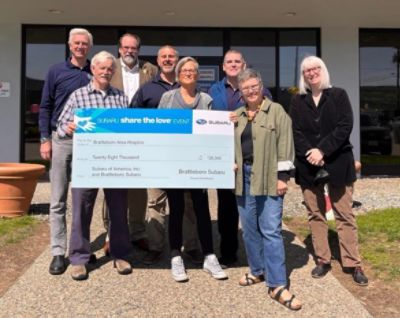 ---
Supporting our community by providing warmth to the Homeless - Jady L
Groundworks is a shelter in our community that we have been supporting for over 10 years, they provide for the homeless in desperate times of need. They provide shelter to people in need year round but especially go above and beyond during these cold months. They work with non-profit agencies to help people find jobs, get the help they need, and start looking for a more permanent home. Their program provides food, phones, laundry, warm showers and just a spot to stay when they need to keep warm. They provide 30 beds for the people that need to stay longer than just a day and have a waiting list available for when there is more space available! They even have Registered Nurses available for when they need medical attention of any kind. We, at Brattleboro Subaru believe that anyone has a chance to a better life and it can only happen when places like this exist. Subaru and its retailers have donated over 500,000 pairs of new socks and blankets to their local homeless shelters during this Subaru Loves to Help® initiative. We had the opportunity to participate this month and feel more than blessed to be able to do our part for the community we love! We recently donated multiple boxes of new pairs of socks to Groundworks. Their staff is so welcoming. We had the opportunity to meet a few of the individuals there and you could tell by their facial expressions how thankful they all were to receive these donations. We look forward to doing more for our community!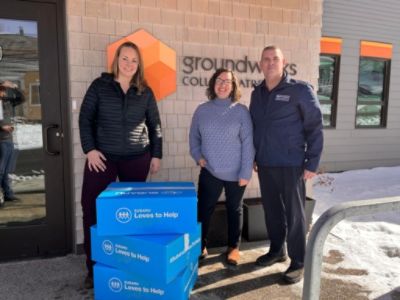 ---
Contributing to a Pathway for Young Professionals - Melanie D
Brattleboro Subaru had the opportunity to donate $250.00 to the Southern Vermont Young Professionals to fund a year-long membership for ten people of the community who would like to join. We believe that everyone deserves a chance to enhance their skills and career; this is a great opportunity to encourage people to get more involved and experience the type of give and take our community offers. Brattleboro Subaru and Southern Vermont Young Professionals have been partners since 2020 and we are very excited to take part in the process of getting people in touch with the very resource that could jump-start their career and lifestyle. This $250.00 donation for ten, year-long memberships grants ten people standard membership status. In standard membership, these people will have free access to monthly meet-ups and all monthly paid events, eligibility to apply for a professional development grant of up to $500.00, access to Young Professionals' LinkedIn group where members can post jobs, see events, ask questions, and more, host Young Professionals' meet-ups and propose and coordinate an event with support from the head coordinator, a social shout-out for their business/cause of choice, and an option to provide or receive mentorship. Southern Vermont Young Professionals' vision statement resonates with us while saying, "Our vision is to help young professionals in the area create deep roots in our community that encourage them to stay and build a prosperous life in the Shires of Vermont." This sits in our hearts with warmth and love because we want to do whatever we can do to contribute to a community that has so much generous give and take in all aspects in order to take care of one another. When we see young people find somewhere they feel like they belong, we know we are in a place that cares for all ages and all types of people. What better way to take care of the community we are all proud to love and live in?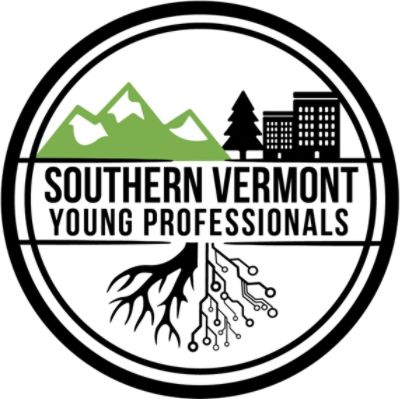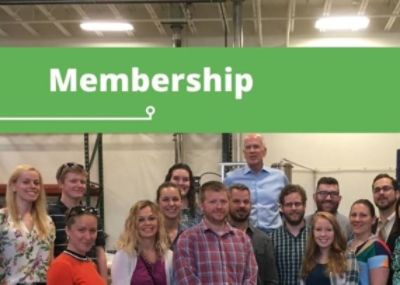 ---
19 Days of Norwich and the Valley - Melanie D
Brattleboro Subaru has recently donated hundreds of pounds of food to the Upper Valley Haven in White River Junction, Vermont for Thanksgiving. We recently learned about their 19 Days of Norwich and the Valley initiative and had to participate. The story goes..."In November 2013 a customer walked into Dan and Whit's General Store in Norwich to purchase items for the food shelf at the Upper Valley Haven because the shelves were lacking one crucial ingredient: food. This did not sit well with Dan Fraser who was used to seeing stocked shelves and fulfilled shoppers as the owner of Dan & Whit's, so he decided to match the purchase and double the food donated to the Haven on that day. He also decided to do something more. One percent more. After looking at models of giving from businesses like Ben & Jerry's and Newman's Own, Fraser decided that for the first 19 days of December Dan & Whit's would donate one percent of its sales to the Haven." They started recruiting businesses to donate 1% of sales to the Haven in this time frame. As others wanted to participate in their own way, it has become an honor system, a donate-what-you-can process. We decided to monetarily donate a little more in addition to our donation from Thanksgiving which included $1000 along with Reynolds' Subaru whom also donated $1000. This story is touching and aligns with our values of what it means to be a part of a community that takes care of each other. They may be a far distance away, but we love to participate and be involved because a community that cares and supports each other is a community we are proud to be in. If you would like to participate or read more about this initiative, please visit UpperValleyHaven.org.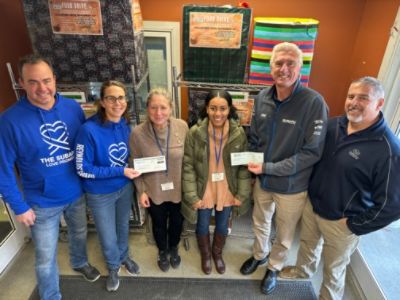 ---
Reality Fair for High School Students - Christy B
Brattleboro Development Credit Corporation 's Pipelines and Pathways Program (P3) hosted its first-ever Reality Fair. This thoroughly interactive, hands-on experience covered financial literacy and practical life skills all local students need to confidently take their first steps into the adult world. Subaru was there, helping students learn how to change a tire and maintain their car as well as walking students through the steps of buying their first cars. All the Subaru volunteers were amazing with the students and amazing to work with. What a great community-building effort! We couldn't have done it without you!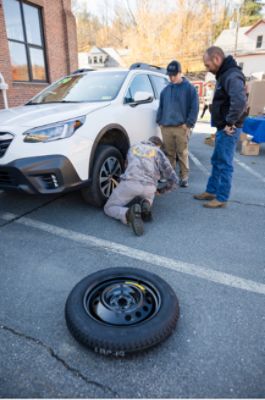 ---
Collaboration for a Cause: A Thanksgiving Food Drive - Melanie D
Brattleboro Subaru and Reynolds' Subaru came together in the early fall days of 2022 to hold a Food Drive for the Upper Valley Haven in White River Junction, Vermont. This is a very special Food Drive because our employees, customers, and the community collected Thanksgiving non-perishables for more than 850 families in the Upper Valley Haven. At Brattleboro Subaru we are very grateful to be able to sit at the table with our family and enjoy a delicious, plentiful meal every year. We accepted Reynolds' Subaru's offer to come together in a heartbeat. Taking care of our community is always at the top of our list, and that community does not have to be solely in the Brattleboro area. Any community that shares love, supports, and cares for each other is a community we want to be a part of, whether that is 1 or 100 miles away. The moment we spread word to our employees about our Food Drive, they went right out to the store and filled the box up. We are grateful for our generous and eager employees whom spread love and support when and wherever they can. We are grateful for our loyal customers who are a part of our giant family for donating when they can and bringing in their non-perishables when they can. Lastly, we are grateful for Patty at the Halifax, Vermont Town Office for allowing us to consider her office as a drop-off location, as well as all the generous visitors she had dropping off their items. Times are hard these days, especially with grocery prices increasing, and we want to recognize and thank everyone for sharing what they can. Our community just as much takes care of us as we do our community. Happy Thanksgiving!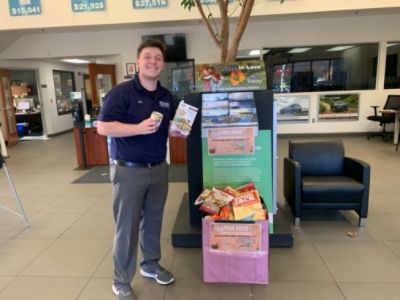 ---
Lucy Finds Love - Maya R
Lucy Along with our partner Brattleboro Subaru, we cheered for the "underdogs" during the month of October for the "Subaru Loves Pets" initiative. Every few days, WCHS and Brattleboro Subaru featured adoption-ready pets on each of our websites and social media pages to maximize exposure for dogs and cats that weren't getting a lot of interest because of their breed, age, or medical condition. Entering the last week of Subaru Loves Pets month, over 56 dogs and cats were in new loving homes. The extra publicity helped dogs like Lucy, who arrived in Vermont on August 31, after spending time at an out-of-state shelter that was packed with more dogs than they could accommodate. When Lucy arrived, she leapt out of the carrier, eager to see where she was and who was in the room. Every step she took was full of energy. Maybe it was her gray coat, endless energy, or size, but for some reason, she didn't attract much interest from potential adopters. Then it happened. A family heard about Subaru Loves Pets month and decided to "check out the pups," and the minute they saw Lucy they fell in love. "She's the sweetest girl anyone could ever ask for. She has the high energy that our other dog, Milo, and our child, Elijah, love, but she knows when to be calm and quiet." For small rural shelters like WCHS, it takes the help of partners like Brattleboro Subaru to reach potential adopters. There is no telling how long Lucy would have had to wait if they didn't feature her. From all of the staff and volunteers at WCHS, thank you for giving dogs like Lucy a home where they can cuddle on the couch and keep their humans warm.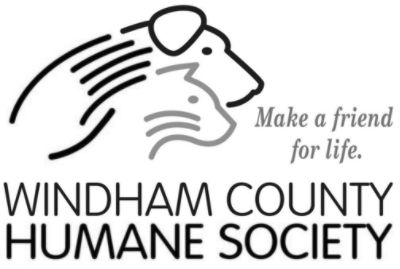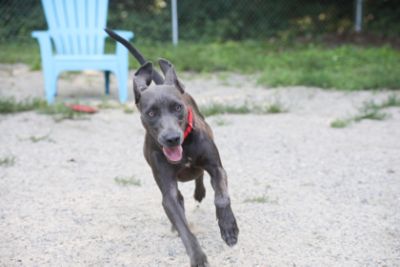 ---
Collecting Subaru Dealer Frames - Frank S
My story is a bit different as it has to do with my unique hobby of collecting license plates. I've been collecting plates since I was a little kid. Fast forward to today and although my collection has been cut back, I embarked on a new collection to enhance my one per state display in my garage. I am close to completion of obtaining a Subaru dealer license frame from each state. I am the proud owner of a 2010 Subaru Forester and if and ever I need to replace it, I will definitely purchase another Forester. I didn't realize the challenge of collecting frames and with persistence and patience, the end results will be worth the time and effort. My first effort was researching which states had Subaru dealers that also used frames. Thankfully, Google maps was a great research tool and I was able to narrow down my search to dealers that met my criteria. With the information in hand, I went on an email writing campaign to those dealers but with some success. My next move was a letter writing campaign which did a little better, but I still had a long way to go. Along with writing, I also solicited help from different hobby related Facebook sites that I subscribe to, including license plate sites and a Subaru owners site. This yielded more new states. With one more letter writing attempt, I decided to target specific personnel from general managers on up to the actual owners. I'm still awaiting results from many of them, but from those who have answered, I'm an very pleased with the results. Brattleboro Subaru is one of them, and I am very grateful for their kindness. One of the challengers I encountered are states with limited dealerships. Mississippi only has one dealership, but doesn't use frames. In its place on my display is a non-dealer Subaru frame. I have my own frame grading system that ranges from 5+ (frames that include Subaru plus the town and state) down to a 1 (no brand or location, just the dealership name). Brattleboro is a definite 5+. I only need a few more states and I'm confident that I'll obtain them. One of my goals it to submit an article to Drive Magazine to share my hobby. Love, it's what makes a Subaru a Subaru. And collecting frames just enhances it!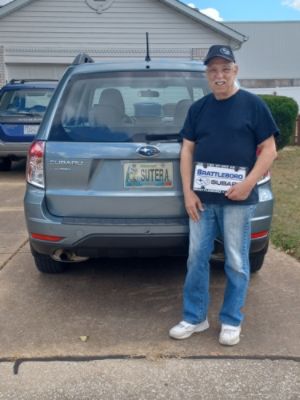 ---
Brattleboro Subaru Shares Some Love with Green Street School - Maureen H
September 23rd was a beautiful and sunny day, made even brighter at Green Street School when Brattleboro Subaru brought the Kona Ice Truck to us! All the students (and staff!) go to squirt their own flavors for their shaved ice and enjoy an extended recess time enjoying it. In the meantime, our new teachers were gifted with extra cash to purchase classroom supplies of their choice! It was great for the teachers to be able to select the items they specifically needed to support their students and classroom activities.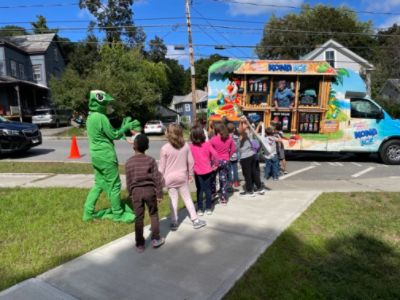 ---