2021 Subaru Forester vs 2020 Honda CR-V

When you're in the market for a new SUV, many options around the Vermont area can handle the harsh winter conditions just fine. But, if you want more than 'just fine", come check out the new 2021 Subaru Forester. With standard equipment ideal for rough Brattleboro roads and a variety of convenience features that keep the cold back, the Subaru Forester is ideal for Vermont drivers. That's why we prefer it to options like the Honda CR-V, which offers many features but doesn't do it quite like the Forester can.
All Wheel Drive
The Subaru Forester comes standard with symmetrical all-wheel drive to handle snowy roads and off-road adventures with ease. You need to pay extra to unlock the same feature on the CR-V. When both are equipped with all-wheel drive, the Subaru Forester provides a bit more efficiency while on the highway than the Toyota Rav4. The Subaru SUV also has a larger gas tank, so you can go longer in between trips to the gas pump.
Interior
If you're looking to provide the coziest interior for your passengers, the Subaru Forester is the better fit. It offers 111.9 cubic feet of space to stretch out in, while the Honda SUV only offers 105.9 cubic feet of space. You can maximize your cargo space with just a bit more available from the Subaru Forester - 76.1 cubic feet. The Honda CR-V offers less, meaning you can only fit so much camping gear while on the go. If you want to bring your kayak with you on your next adventure, the Forester makes it simple with raised roof rails available on every model. The Honda CR-V only offers this feature on its most expensive model. The Subaru Forester is standard with a 6.5-inch touchscreen and smartphone integration. The Honda CR-V does not offer these features unless you upgrade to a more expensive trim level. Both models offer a package of driver-assistance technology that ensures you have a pair of eyes on the roads at all times, but only the Subaru pairs it standard with all-wheel drive to help keep you safe.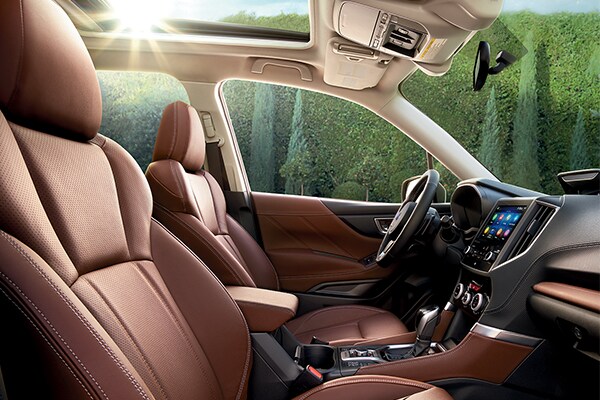 2021 Subaru Forester vs 2020 Toyota Rav4

Performance & Safety
The Subaru Forester is standard with symmetrical all-wheel drive which is perfect for winter roads and back-trail adventures. The Toyota RAV4 requires you to pay more for its similar feature. While the Toyota RAV4 has impressive efficiency while driving through the city and on the highway, it also comes with a smaller gas tank than the Subaru Forester. That means you'll need to stop more to pump gas when you just want to drive.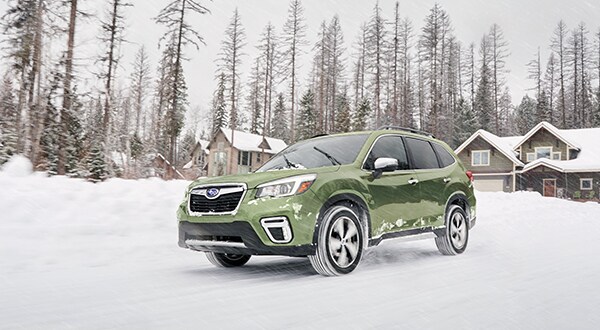 Interior and Exterior
You'll be a little bit more cramped with the Toyota RAV4, as it only offers 98.9 cubic feet of passenger space. The Forester offers over 111 cubic feet, allowing you to stretch out more. When you need to pack well for a camping trip, the Subaru Forester is the best option. It provides a maximum of 76.1 cubic feet of storage, while the RAV4 doesn't even crack 70 cubic feet of space. Raised roof rails are available with every Forester model; they aren't offered on the Toyota unless you spend more on expensive trim upgrades. Between Subaru's EyeSight® Driver Assist Technology and Toyota's Safety Sense 2.0, both SUVs are well suited to keeping you safe and sound. However, only the Forester pairs its safety package with standard all-wheel drive, while Toyota requires you to pay more to unlock the same feature.
Brattleboro Subaru

1234 Putney Rd
Brattleboro, VT 05301