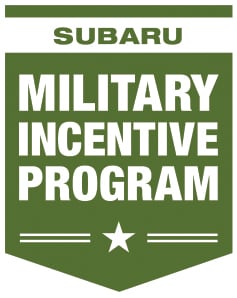 SUBARU MILITARY INCENTIVE PROGRAM

We are proud to offer our active duty service men and women a Subaru Military Discount on their purchase or lease of a new Subaru as well as on all Subaru Parts and Accessories and Servicing of your Subaru vehicle.
Eligibility
Eligible participants include active duty members and Reserves of the U.S. Air Force, Army, Navy, Marines, National Guard and Coast Guard as well as their spouse or domestic partner residing in the same household (address verification required).
Special pricing is non-transferable and does not extend to the eligible participants family members such as parents, siblings, children, etc.
Vehicle Pricing and Discount
Our Military Discount Pricing for a purchase or lease transaction is based on special military pricing* for the new Subaru and factory installed accessories as invoiced and delivered. This is the hassle-free, non-negotiable price for all customers with a valid Military Identification Card. You are also entitled to any of Subaru's manufacturer's consumer factory rebates or special financing offers. Military discount applies to new in-stock or special ordered vehicles only.
The special vehicle pricing under our Military Discount Program cannot be combined with any other offers with the exception of Subaru Reward Dollars®.
The customer will be responsible for all applicable federal, state and local taxes and license and registration fees. Customary dealer fees are additional.
* Subaru Impreza WRX and Subaru BRZ excluded.